Marilyn at 16 and The Nassau Hotel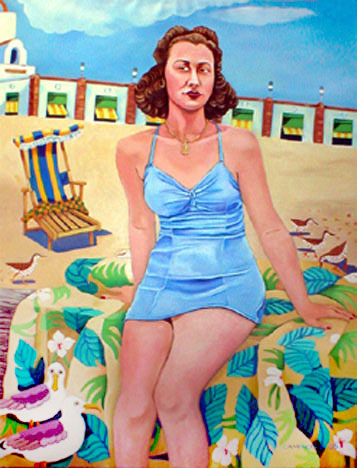 Oil 24″ x 30″
Now and then I have the good fortune to secure a direct commission from a client who wants a painting for a special occasion, in this instance the occasion was an 80+ birthday surprise for her mother, seen here at 16, while vacationing with family at Long Beach on Long Island.
It's a challenge to capture a personality from a photograph when it must be on target; not only must the subject look like she is recalled, but the client has to agree with my interpretation. This can be nerve wracking as I work back and forth from thinking I've succeeded to losing the resemblance with a misplaced brushstroke and having to battle to recapture the subject.
The client tells me that her mom was looking at a handsome young lifeguard when this photo was taken.
Oil 24″ x 28″
In a commission for the same client, my task was to bring Marilyn's two sisters to life. They've got great taste in bathing suits, don't you think? That's Marilyn waving to us in the background.