Teeny, Meany and Jo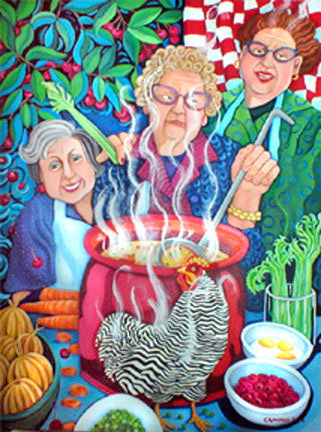 Oil 32″ x 42″ *
Each of us has had the experience of cooking with friends or family members who disagree about a recipe, want an ingredient added or dropped, or maneuver to control the dish altogether.
These cooks are on their way to ruining the broth, or chicken soup, as we have here. And why is that fully dressed chicken still running around?
Hang this painting in your kitchen as a reminder that the communal making of meals may wind up compromising relationships while serving 1) too salty, 2) not salty enough, 3) too greasy, 4) overly seasoned, 5) bones still in there, 6) missing the main ingredient, 7) bland meals that people will eat politely while rolling their eyes when your back is turned and slogging down a beverage to drown out the taste.